Meet the CTC Board Members 我们的CTC成员
FOUNDING BOARD MEMBER 创始成员
Mark Clayton is a qualified accountant from the UK. He arrived in China in 2005 and has been living in Zhuhai since May 2007. Mark is the CFO and partner in a British Manufacturing Group. Mark's passion is charity and giving back to the community, his greatest achievement was received in February 2019 becoming an international Peace Award laureate, which recognised his work in the Field of Philanthropy over the years by the Sino-Phil International Peace Foundation. With a love of children and community, Mark has been an active part of the Zhuhai community and the CTC since its formation and is looking forward to seeing it grow and benefiting more children every year. With his background in accounting he ensures that everything is 100% transparent.
马克是一名来自英国的合格会计师。他于2005年来到中国,自2007年5月起一直居住在珠海。马克是一家英国制造集团的首席财务官和合伙人。马克的热情是慈善和回馈社会,他最大的成就是在2019年2月获得国际和平奖,这是对他多年来在中国-菲尔国际和平基金会慈善领域的工作的认可。爱孩子,爱社区,自成立以来,马克一直是珠海社区和CTC的积极分子,期待着它的成长,让更多的孩子受益。以他的会计师背景,他能确保一切都是100%透明的。
FOUNDING BOARD MEMBER 创始成员
Sunny, originally from Henan, moved to Zhuhai 12 years ago. She became involved in CTC after working for InternChina, and has been an active participant in all the editions of the Come Together festival. She is now a full time mum of two children, and shares her love for children through the many programs and initiatives funded by CTC, wishing that she will be able to carry on contributing to the charity in the future.
Sunny,原籍河南,12年前移居珠海。在为国际中国工作后,她加入了CTC,并积极参与了所有CTC举行的一起来慈善音乐节。她现在是两个孩子的全职妈妈,并通过CTC资助的许多项目和倡议来分享她对孩子们的爱,希望她将来能够继续为慈善事业做出贡献。
BOARD MEMBER 成员
Paul Bailey moved to Zhuhai in 2012 from the British island of Jersey, and became a part of CTC in 2015. He currently manages the Australasian and South East Asian partnerships for Pagoda projects, a company that offers work-integrated-learning experience in China and other Asian countries for foreign students. Paul and his wife Kate first became interested in contributing to children's charities when travelling to South East Asia, and are now grateful to have the opportunity to contribute towards worthwhile causes in Zhuhai. Not only is he a member of CTC's board, but he is also a keen musician himself, and has performed at previous Come Together Festivals.
保罗•贝利于2012年从英国泽西岛搬到珠海,并于2015年成为CTC的一员。他目前管理着宝塔项目的澳大拉西亚和东南亚合作伙伴关系,宝塔项目是一家为外国学生在中国和其他亚洲国家提供工作融合学习经验的公司。保罗和他的妻子凯特是在去东南亚旅行时开始对儿童慈善事业产生兴趣的,现在他们很感激有机会在珠海为有意义的事业捐款。他不仅是CTC的董事会成员,而且他自己也是一个敏锐的音乐家,并在以前的Come Together音乐节上表演过。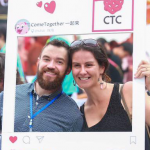 BOARD MEMBER 成员
Luke has always believed in the power of community service. While growing up, he was active in community clean-ups, clothing drives, Habitat for Humanity, Boy Scouts, and other service programs. Bringing these ideals with him to China, Luke jumped on the opportunity to help create the CTC organization. Over the last twelve years, he has seen the Zhuhai community grow and develop, and is excited to help out where he can.
卢克一直相信社区服务的力量。在成长过程中,他积极参与社区清洁、衣物捐赠、人类家园、童子军和其他服务项目。卢克带着这些理想来到了中国,他抓住机会帮助创建了CTC组织。在过去的12年里,他见证了珠海社区的成长和发展,并很高兴在力所能及的地方提供帮助。
Sir Billy C. Chan KCR (Knight Commander, Order of the Knights of Rizal)
FOUNDING BOARD MEMBER 创始成员
Dr Billy C. Chan is currently the Director, Executive Assistant to the Dean of the Faculty of Medicine, at Macau University of Science and Technology.
He is also the Vice Chairman of the Advisory Board at the Macau Healthcare Promotion and Management Association. He is a Standing Committee Member of the International Trauma Rescue and Treatment Association in Beijing, and Honorary Consultant for Peking University People's Hospital. He is also an Honorary Professor at the First School of Clinical Medicine BUCM, and Executive Council Member of the World Association of Chinese Doctors. For the Portuguese speaking world, he is an Honorary Member of the Brazilian Medical Association, and Honorary Vice President of the Angola Chamber of Commerce in Macau for Medical Affairs.
Dr Chan is a regionally acknowledged frontrunner in healthcare simulation. Over the past 18 years he has contributed to the arena of medical simulation by introducing skills training programs to advance positive outcomes and reduce errors in the Commonwealth of Australia, New Zealand, Hong Kong SAR, Macao SAR and mainland China. He is also officially recognized as "Sir Billy Chan" as he was conferred with Knight Commander of Rizal, Lifetime Member of Order of the Knights of Rizal. Dr Billy Chan is the Chairman of the Board of the SINO-PHIL ASIA INTERNATIONAL PEACE AWARDS FOUNDATION, INC. which is dedicated to enhancing the quality of life for all humanity.
陈Billy博士现为澳门科技大学医学院院长的院长兼行政助理。他亦是澳门医疗推广及管理协会顾问委员会副主席。他是北京国际创伤救援与治疗协会常委,北京大学人民医院荣誉顾问。兼任北京中医药大学第一临床医学院名誉教授、世界中医协会常务理事。在葡萄牙语世界,他是巴西医学协会的荣誉会员,也是澳门安哥拉商会负责医疗事务的名誉副会长。陈Billy博士是区域公认的医疗模拟的领跑者。在过去的18年里,他通过在澳大利亚、新西兰、香港特别行政区、澳门特别行政区和中国大陆引入技能培训项目来促进积极的结果和减少错误,为医疗模拟领域做出了贡献。他也被正式承认为"比利·陈爵士",因为他被授予Rizal骑士指挥官,Rizal骑士勋章终身成员。陈比利博士是"中国-菲尔亚洲国际和平奖基金会"的主席,该基金会致力于提高全人类的生活质量。
BOARD MEMBER 成员
Andy Board, originally from England, has now lived in Zhuhai since September 2006. Andy came to Zhuhai to set up a factory on behalf of Bowers&Wilkins, and believed this would be a temporary assignment. However, he remained in Zhuhai, fascinated by its environment and its people, still working as the GM for Bowers&Wilkins but also committing to other projects such as owning part of a European restaurant, being active in the fitness scene, and being a board member of CTC. The role he plays on the board of CTC is that of sponsorship manager.
安迪·博德来自英国,2006年9月起定居珠海。Andy代表Bowers&Wilkins来珠海建厂,他认为这只是一个临时任务。然而,他还是留在了珠海,对这里的环境和人非常着迷,他仍然担任Bowers&Wilkins的总经理,但也致力于其他项目,比如拥有一家欧洲餐厅的部分股权,积极参与健身活动,并担任CTC的董事。他在CTC董事会的担任赞助经理。
Alex Wise arrived in China in 2012, and has 7 years experience as an English teacher in Zhuhai. Hailing from Yorkshire, England, Alex has a degree in Physics and before moving to China worked in the banking sector for 5 years. He has now been volunteering for CTC for over 4 years and has recently took on a more involved role within the charity as Project Coordinator.
亚历克斯·怀斯于2012年来到中国,在珠海有7年的英语教师经验。来自英国约克郡的亚历克斯拥有物理学学位,在来到中国之前,他在银行工作了5年。他现在已经为CTC做了4年的志愿者,并且最近在慈善机构中担任了一个具有参与性的角色,即项目协调员。
Sean Moran hails from Ireland,he is the co-founder and CEO of Sean Global Education, He is a specialist in education with a decade of successful experience in developing English Training Schools in China. Sean specialises in identifying new and innovative educational brands for the Chinese market and regularly attends national training sessions on commerical self expression.
A strong believer in the power of positive thinking in the workplace and community, Sean believes we should leave this great city of Zhuhai better than we found it,in terms of creating employment and a greater community togetherness ,mindfulness between expats and locals through the instrument of charity involvement with Come Together Community.
肖恩·莫兰来自爱尔兰,是肖恩全球教育公司的联合创始人兼首席执行官,他是一名教育专家,在中国发展英语培训学校方面拥有十年的成功经验。肖恩专注于为中国市场识别新的和创新的教育品牌,并定期参加全国商业自我表达培训课程。肖恩坚信在工作场所和社区中积极思考的力量,他认为我们应该更好地离开这座伟大的城市珠海,通过慈善参与和"团结社区"的工具,在创造就业机会和更大的社区团结、侨民和当地人之间的专注方面,我们应该比我们发现的更好。