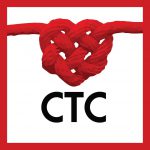 On Sunday the 23rd of June, CTC Intern Nyaradzo, Project Coordinator Alex and one of CTC's founding board members, Mark paid a visit to our long-term charity partner – Lanjing Ling (LJL). LJL is a local Zhuhai charity which supports children with developmental disabilities such as those living with Autism and Down Syndrome through a range of weekly activities and classes.
6月23日星期天,CTC(一起来慈善音乐节)实习生Nyaradzo,项目协调员Alex和CTC创始董事会成员之一Mark拜访了我们的长期慈善合作伙伴——蓝晶灵(LJL)。蓝晶灵是珠海当地的一家慈善机构,通过每周一系列的活动和课程,为患有自闭症和唐氏综合症等发育障碍儿童提供帮助。
Happy Baking
快乐烘培
The first class they attended was the Happy Baking course, in which this week, the children were learning to bake cupcakes. It was wonderful to see the children smiling and having fun with each other while immersing themselves in the activity. The team were especially glad to see that these classes were achieving exactly what had been intended in providing the children with transferrable skills which could potentially be useful when they eventually join the work force. And the fact that the cupcakes were super tasty was a massive bonus!
第一堂课是"快乐烘焙课",这周,孩子们正在学习制作烘焙纸杯蛋糕。看到孩子们面带微笑,沉浸在活动中,互相取乐,实在是欣慰。我们团队特别高兴地看到这些课程正在实现为儿童提供可转移技能的目的,这些技能可能在他们将来步入社会参加劳动时或多或少有些帮助。但不得不说,孩子们制作的纸杯蛋糕超级美味,对我们来说是一个巨大的奖励!
Let's Play Together! Basketball
让我们一起玩!篮球
Next our team visited the Let's Play Together class, which intends to build on the children's spatial awareness and hand-eye coordination through sports such as tennis, football and basketball whilst encouraging valuable social interaction. On that day, the children were learning to play basketball. The class begun with a dribbling exercise, where the children were instructed to dribble the ball from one end of the court to the other. This was followed by a passing exercise which saw the children paired off and passing back and forth to each other. About halfway through the class, our team members were asked to join some of the older children in a little game on the court, in which the children were able to impress the team with their shooting skills.
接下来,我们的团队参观了"让我们一起玩"课程,该课程通过网球、足球和篮球等运动培养孩子们的空间意识和手眼协调能力,同时鼓励孩子们之间的社交互动。那天,孩子们正在学打篮球。这门课是从运球开始练习,要求孩子们把球从球场的一端运到另一端。接着是传球练习,孩子们配对并且互相传球。在课程进行到一半的时候,我们的团队成员被邀请和一些年龄较大的孩子一起在球场上玩一个小游戏,在这个游戏中过程中,孩子们能够运用他们学到的投篮技巧,这给我们团队留下了深刻的印象。
Overall our team were extremely pleased with everything they saw at LJL. They were able to witness for themselves the benefit of these classes to the children, particularly as an opportunity for them to strengthen their social and communication skills through interaction with each other and their teachers. Both programs are fully funded by the CTC, a Zhuhai NGO.
总的来说,我们团队对于在"蓝晶灵"看到的一切都非常欣慰。我们能够亲眼目睹这些课程给孩子们带来的好处,特别是他们通过彼此和与老师的互动交流来加强自己的社交和沟通技能。这两个项目都是由珠海非政府组织CTC(一起来慈善音会)全额资助。