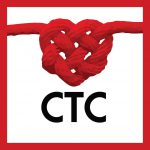 "A community of people collectively making a difference for Zhuhai's children"
一个为珠海的孩子们做出改变的群体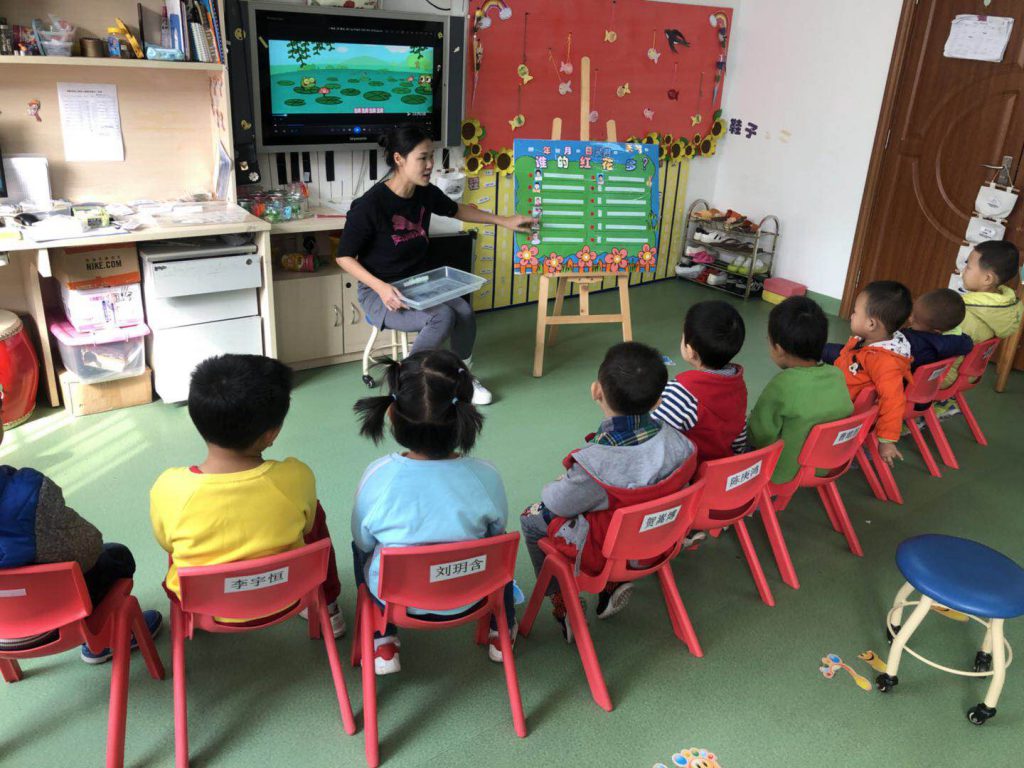 What started as a handful of expats looking to make a small difference in the city they call home, has now become a growing name in the local community. At the Come Together Community (CTC), the main objective is to offer assistance to local charities in Zhuhai that support underprivileged children or children with special needs. This is done through providing materials for educative purposes, and funding programmes that develop social and cognitive skills in children with special needs. In addition to this, CTC prides itself on being 100% transparent surrounding funding activities, and seek to gain verifiability and trust from its sponsors. All members of CTC are dedicated to making a change and improve the lives of many families in Zhuhai, and hope to continue this for many years to come.
一开始只是一些外国人想在他们称之为家的城市里做些小的改变,现在他们的名字在当地社区越来越响亮。"CTC"的主要目的是为珠海市当地的慈善机构提供帮助,帮助弱势儿童或有特殊需要的儿童。这一目的通过提供有教育作用的材料和资助培养特殊儿童社交及认知能力的项目来实现。除此之外,CTC在各类资助活动中以其100%的透明度而自豪,以获得其赞助商的认可和信任。CTC全员致力于改变和改善珠海众多家庭的生活,并希望今后继续慈善活动。
2018 has been the biggest year yet for CTC. With ever-increasing sponsorship and funding received over the years, CTC have grown and expanded numerous projects whilst continuing to support existing ones.
2018年是CTC慈善音乐节迄今为止最盛大的一次。随着这些年来获得的赞助和资金的不断增加,CTC在继续支持现有项目的同时,也增多了许多项目。
The Come Together Charity Music Festival is the largest charity festival event in South China, and is the biggest fundraising event of the year for CTC. Each year, CTC hosts this event to bring people together from all cultures and walks in life to celebrate music and raise these funds for charity. Hosted in the LETS Cultural District in Zhuhai on the 17th November, the festival involved live performances, various food and beverage vendors, activities and a kids zone, making it an entertaining and successful event this year.
"一起来慈善音乐节"是华南地区最大的慈善活动,也是CTC每年最大的募捐活动。每年,CTC都会举办这个活动,将来自不同文化和各行各业的人们聚集在一起,享受音乐,并为慈善事业筹集善款。音乐节于11月17日在珠海乐士文化区举行,包括现场表演、各种餐饮供应摊位、趣味活动和儿童活动区,使得使今年的音乐节既有趣又成功。
Many bands rallied from all over Zhuhai, Macau and Hong Kong this year to donate their time and talent to the worthy cause. The headlining acts for this year were The High Rollers from Macau, Dr Eggs and Celtics from Hong Kong, and many more local artists! A new addition to the music festival this year was the GameZone, which showcased activities such as pie throwing, large-scale painting, inflatable bean bags and face painting to keep the kids entertained all day long.
今年,珠海、澳门、香港等地的各个乐队都为这件有意义的事业奉献了自己的时间和才华。今年的主角是来自澳门的The High Rollers,来自香港的Dr Eggs和Celtics,以及更多的本地艺术家! 今年音乐节的一个新项目是儿童游乐区,它展示了各种活动,比如扔馅饼、大型绘画、充气豆袋和脸部彩绘,让孩子们可以享受一整天的乐趣。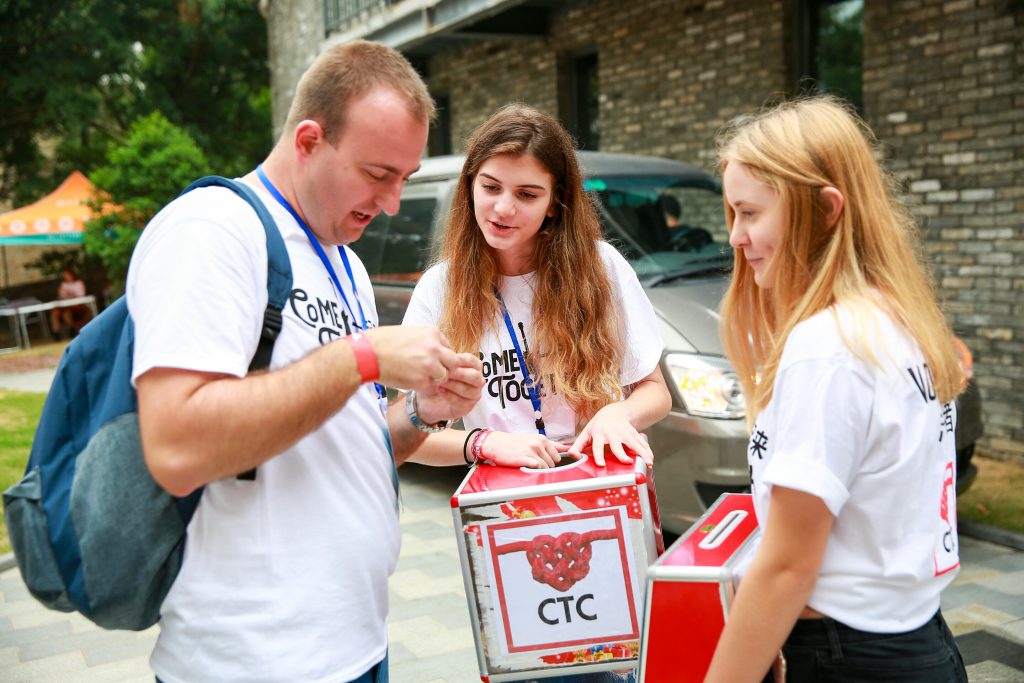 Hopes for the 2018 Come Together Charity Music Festival were to surpass the amount of previous years fundraising efforts. An increase of determination and drive to make this possible resulted in 1519 attendees (excluding children), and raised a grand total of RMB 354,291 which is RMB 18,056 more than the highest fundraising year in 2016.
2018年"一起来慈善音乐节"的期望筹资额是希望能超过上一年。通过大家的决心和动力,共吸引了1519位参加者(不包括儿童),共募集善款354,291元,比最高募资年度2016年多出18056元。
The Growth of Come Together Charity Music Festival
"一起来慈善音乐节"成长记录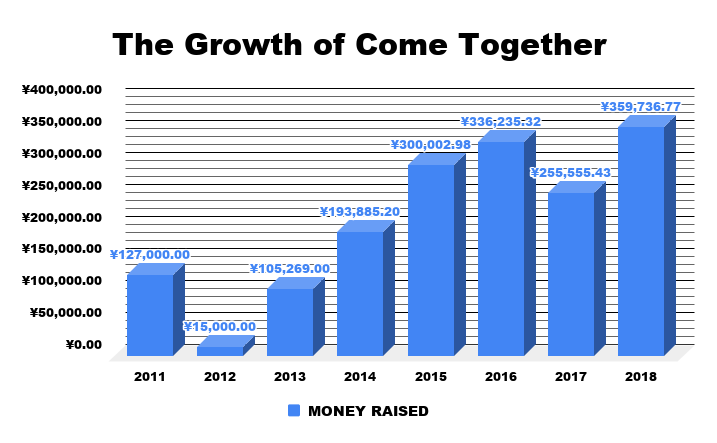 CTC predominately fund 3 local charities that support underprivileged children and families, and children with disabilities. These charities are called Zhuhai Autism Society (ZAS), Charity Promotion Association of Zhuhai (CPAZ), and Lanjing Ling (LJL).
CTC主要资助3个当地慈善机构,支持贫困儿童、家庭和残疾儿童。这些慈善机构分别是珠海市自闭症协会(ZAS)、珠海市慈善促进会(CPAZ)和蓝精灵(LJL)。
Lanjing Ling (LJL)
蓝晶灵
Lanjing Ling is an organisation dedicated to helping children with low functioning autism learn and develop skills in a safe and creative environment. CTC recognizes that when a child is diagnosed with autism, it affects the entire family. LJL fund not only education, but also support the parents through classes to better manage their children's needs at home. CTC is happy to support the LJL parent class, because it gives parents an opportunity to connect with other parents and families in the same situation as their own.
蓝晶灵是一个致力于帮助低功能自闭症儿童在安全和创造性的环境中学习和发展技能的组织。CTC认识到,当一个孩子被诊断为自闭症时,它会影响到整个家庭。蓝精灵不仅资助教育,还通过课堂支持家长更好地管理孩子在家的需求。CTC很乐意支持蓝精灵家长课程,因为可以让他们和其他处境相同的家庭交流。
The social interaction classes teach classroom behaviour and etiquette to primary aged children, in which one of the parents said is a great experience for the children. Not only does the learning happen in the classroom, but also on the court through the 'Let's Play Together Programme' and in the kitchen through 'Happy Baking', where the children improve their hand eye coordination, collaborative skills and have a great time whilst doing it!
社会互动课向小学适龄儿童传授课堂行为和礼仪,其中一位家长说这对孩子来说是一次很好的体验。这种学习不仅发生在课堂上,而且在球场上通过"让我们一起玩"的活动,在厨房里通过"快乐烘焙"学习,孩子们提高了他们的手眼协调能力,合作技巧,并且在学习过程中玩得很开心!
Read more about our visits to LJL projects here:
请在以下链接浏览更多关于我们访问蓝精灵项目的信息:
https://ctcommunity.org/visit-to-ljls-parent-class/
https://ctcommunity.org/fun-in-the-sun-visit-to-ljls-ctc-funded-classes/
Zhuhai Autism Society
珠海自闭症协会
Zhuhai Autism Society is another charity dedicated to caring for children diagnosed with Autism Spectrum Disorder, involving a specialised day-care centre for children 5-18 as well as activities and games on the weekend. The classes aim to help the children finish their homework tasks, with extra help in the areas in which they struggle to complete. The activity programme that ZAS runs includes a skating class, games, and arts and crafts.
珠海自闭症协会是另一个致力于关爱自闭症谱系障碍儿童的慈善机构,包括一个专门为5-18岁儿童设立的日托中心,以及周末的活动和游戏。这些课程的目的是帮助孩子们完成他们的家庭作业,在他们有困难的领域提供额外的帮助。珠海自闭症协会的活动项目包括滑冰课、游戏和手工艺。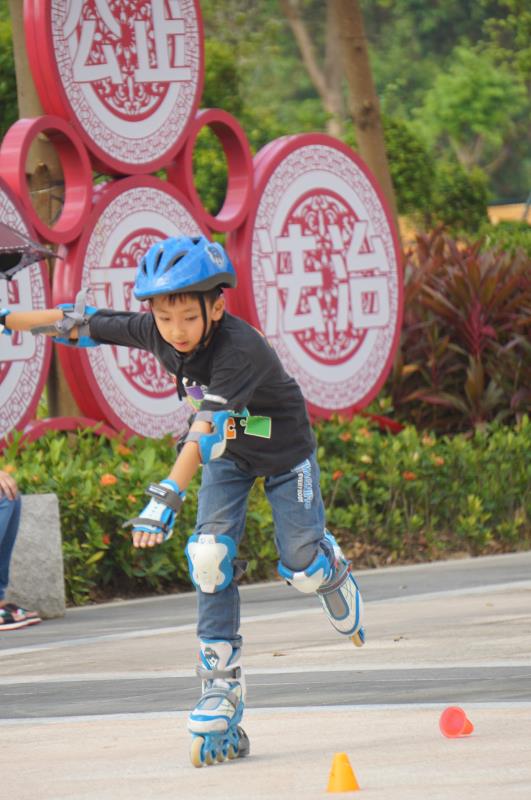 We sat down with Charles He, President of Zhuhai Autism Society, and he believes there are many challenges for his students attending regular schools due to the difficulties of social interaction that are associated with the disorder. Charles mentioned that he personally has seen changes in all of his students, where they have become more friendly and built confidence.
我们采访了珠海自闭症协会主席何先生(Charles He),他认为,由于自闭症的人对于社会交往是很困难的,他的学生在普通学校上学面临着许多挑战。Charles提到,他个人看到他所有的学生都发生了变化,他们变得更加友好,更加有自信心。
Not only is the day care centre great for the children, but many parents of the children indirectly benefit from the programme. Providing care after school hours alleviates parents of taking care of their children this time, which allows them to work full time and improve their financial situation so they can take care of the entire family without the added stress. With demand growing every year for the day care centre at ZAS, there are now around 7 to 10 students on the waiting list, in which the charity will require an increase of funding to fulfil this demand.
日托中心不仅对孩子们很好,而且许多孩子的父母也间接地从这个项目中受益。放学后提供照顾,这可以减轻父母照顾孩子的负担,让他们能够安心工作,改善他们的经济状况,这样他们就可以照顾整个家庭而不会增加压力。由于自闭症协会日托中心的需求每年都在增长,现在有大约7到10名学生在等候名单上,慈善机构将需要增加资金来满足这一需求。
Read more about our visits to ZAS projects here
请在以下链接浏览更多关于我们访问珠海自闭症协会项目的信息:
https://ctcommunity.org/skating-into-the-new-year-zas-skating-class/
Charity Promotion Association of Zhuhai (CPAZ)
珠海爱心会
The Charity Promotion Association of Zhuhai is involved with providing financial aid to underprivileged members of society with such as morally and financially destitute, and young students as orphans or from single parent families that are unable to finance basic education. Through CPAZ, students from Pingsha Primary School received funding for school fees and love packs, consisting of a backpack, globe, notepads and stationary. This support allows children from low income families to have an equal start in primary education.
珠海爱心会的宗旨是为德智体弱、经济困难的社会弱势群体、孤儿、单亲家庭无力资助基础教育的青年学生提供资助。通过珠海爱心会,平沙小学的学生获得了学费和爱心包的资助,这些爱心包包括一个背包、地球仪、笔记本和文具。这种支助使低收入家庭的儿童在初等教育方面享有平等的起点。
This year, volunteers delivered the love packs at Pingsha Primary School directly to 50 students in need. Donors and volunteers also visited many of the families, learning of the hardships they faced prior to receiving funding, and how their personal lives improved since receiving help from CTC.
今年,志愿者们在平沙小学将爱心包直接送给了50名需要帮助的学生。捐助方和志愿人员还访问了许多家庭,了解了他们在接受资助之前所面临的困难,以及自接受CTC的帮助后他们的个人生活如何改善。
Acknowledgements 感谢
From everyone at Come Together Community, we would like to extend a huge thank you to our sponsors and everyone that got involved in 2018. With your support, we can continue to fund these amazing projects in 2019 and improve the lives of many families.
我们要向我们的赞助商以及所有参与2018年活动的人表示衷心的感谢。在您的支持下,我们可以在2019年继续资助这些了不起的项目,改善更多家庭的生活。
Don't forget to keep up to date with our social media pages to see what we get up to in 2019!
别忘了继续关注我们的社交媒体页面,看看在2019年我们会做些什么!